Shockwave Therapy Mechanisms
Shockwave has the characteristics of low frequency and long wavelength, so it has unique physical characteristics, such as small attenuation, long propagation, strong penetration, etc. So that the sound wave is easy to propagate in the human body, and then reach to the lesion locations that are difficult to reach with general instruments. Shockwave carries the pressure energy and directivity, so that when it propagates in the different tissues of the body, stress action is produced at the interface of different tissues. The vibration energy is continually absorbed by the medium and converted into heat energy, which increases the temperature of the medium. This can improve tissue nutrition, promote blood circulation and tissue function regeneration, reduce the tension of muscle and connective tissues, relieve spasm, reduce nerve excitability, play a role in analgesia, and more.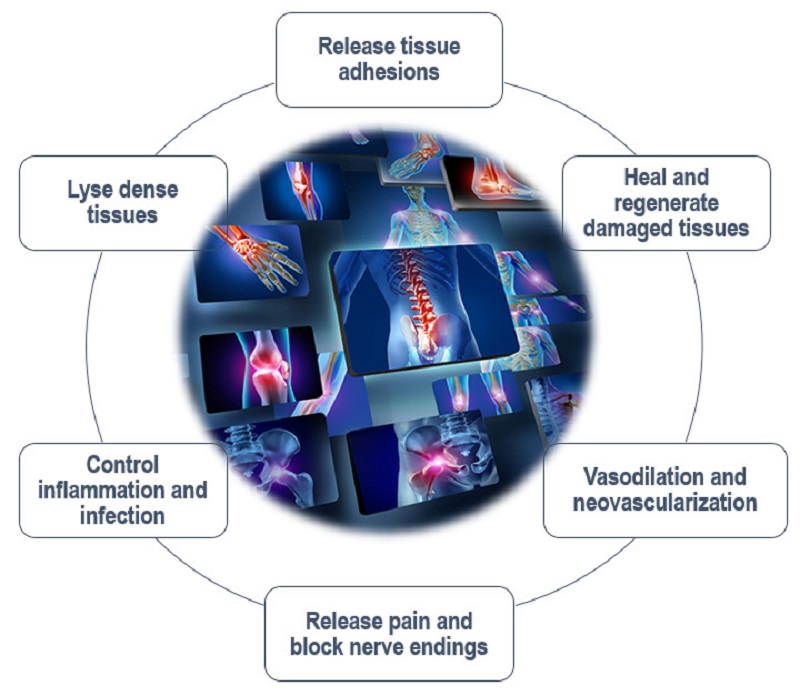 Deep Physiotherapy
The shockwave is a non-invasive, non-anesthetic, convenient and fast therapy method and is widely used in various soft tissue treatments as shown below, but not limited.
1. Erectile Dysfunction: Inability to achieve or maintain an erection.
2. Tennis elbow: Or lateral epicondylitis, is located on the outer portion of the elbow.
3. Plantar fasciitis: Inflammation of the plantar fascia, tissue in the foot used during walking and foot movement.
4. Achillodynia: Painful irritation of the achilles tendon.
5. Patellar Tendinitis: Injury to the tendon connecting kneecap (patella) to shinbone.
6. Bursitis trochanterica: Painful periostitis of the hip.
7. Tibial edge syndrome: Inflammation of the tibial edge due to excessive strain.
8. Shoulder pain with or without calcification: Painful limitation of shoulder movement.
9. Muscle strain: An injury to a muscle or a tendon — the fibrous tissue that connects muscles to bones.
10. Painful trigger points: Acute and chronic pain in the back, shoulder, neck, etc., due to permanently shortened and thickened muscles.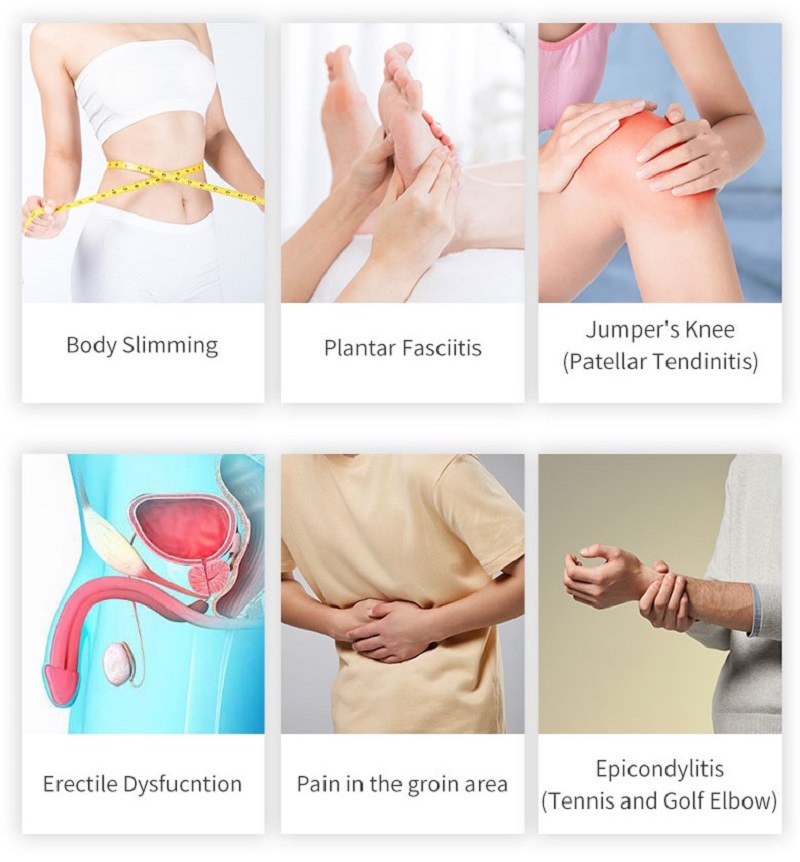 Shockwave Therapy for Erectile Dysfunction (ED)
SWT can effectively treat ED, painless and without side effects. Many erectile dysfunction is caused by vascular problems that the vessels can not supply enough blood to the carvernous body of the penis, resulting in a diminished ability to develop and maintain an erection. The shockwave has the efficient effects of stimulating more blood vessel regrowth and improving blood circulation.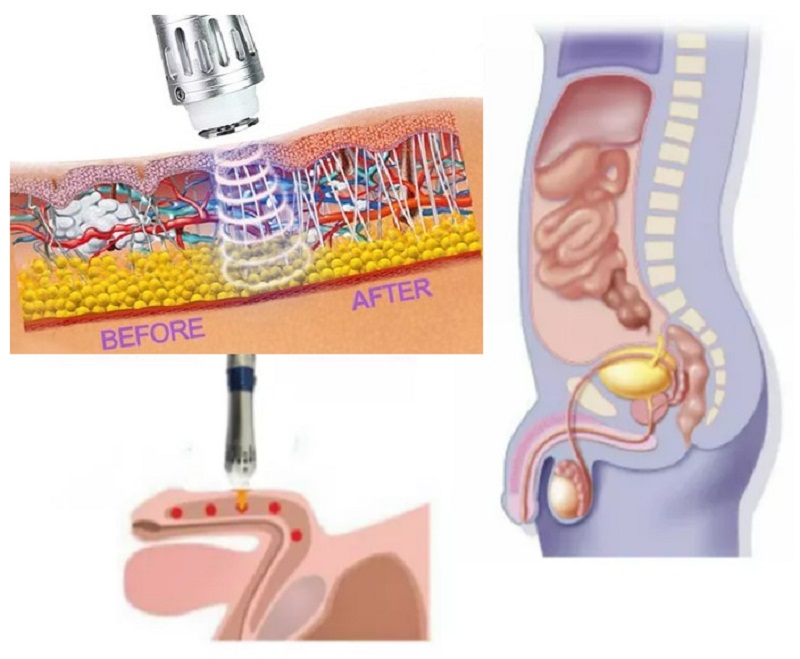 Product General Information
Host Material: Full Metal
Generator: Electromagnetic
Voltage: AC220V/50Hz, AC110V/60Hz
Touch Screen Size: 8.0″
Frequency: 1-16Hz
Energy Output: 30-100mj
Transmitter Heads: 7
Package Method: Flight Case
Therapy Program: 10, adjustable
Product Details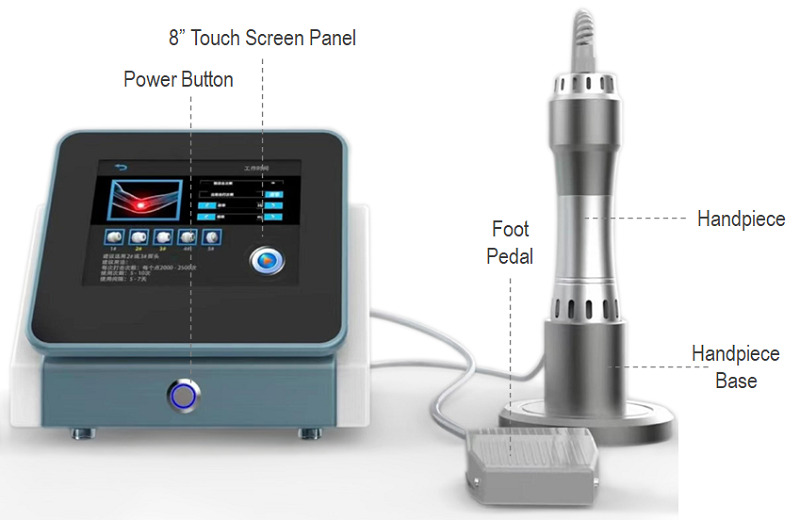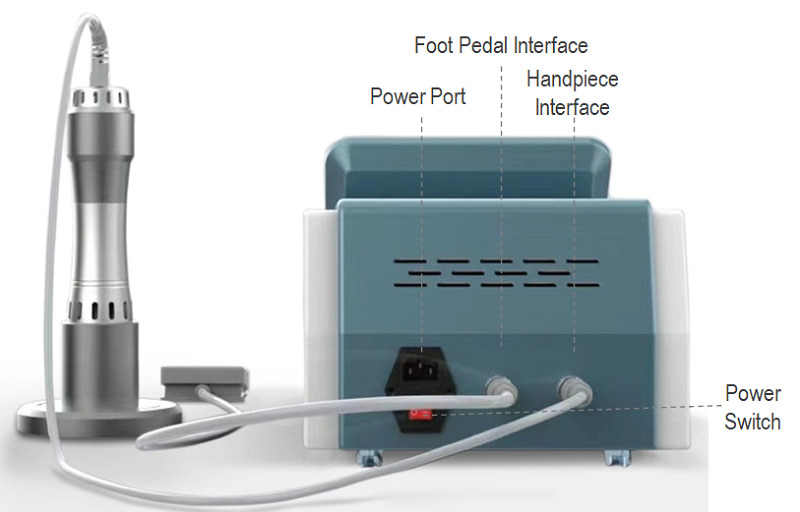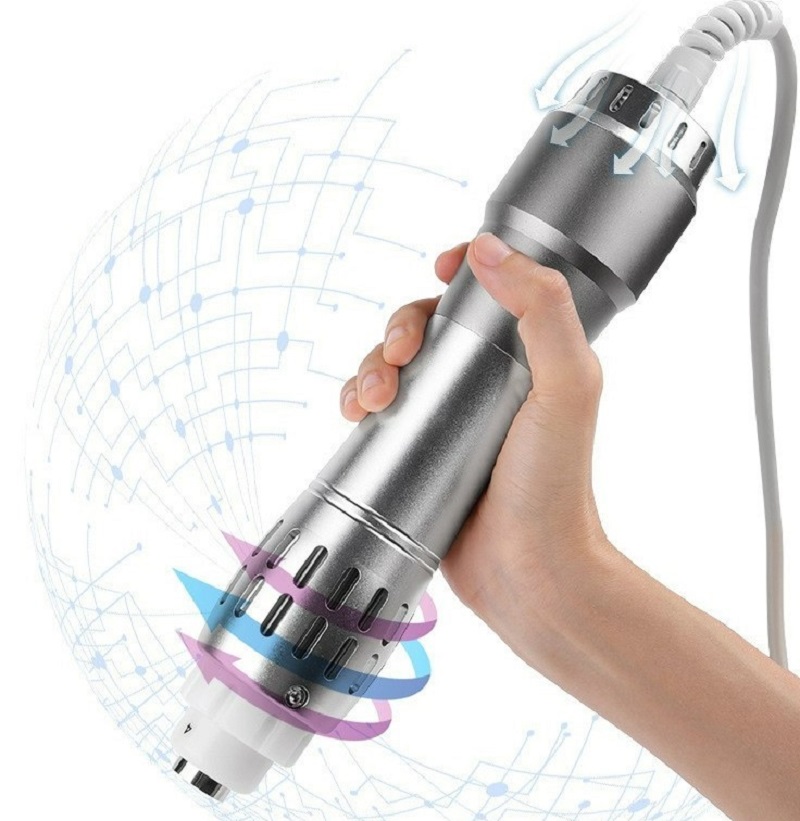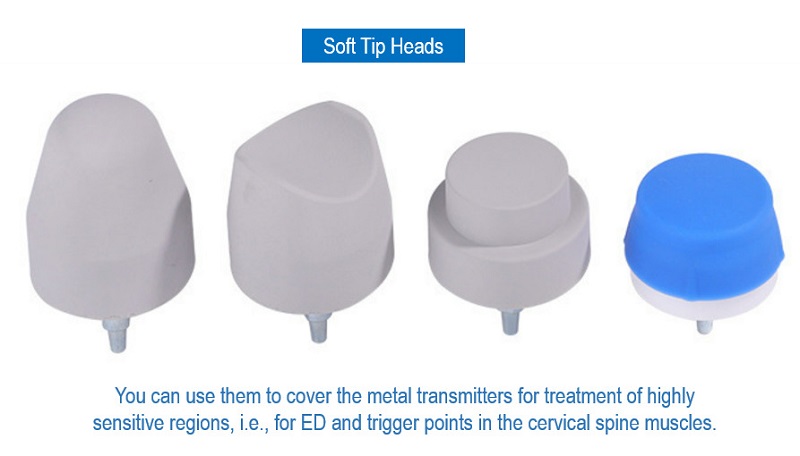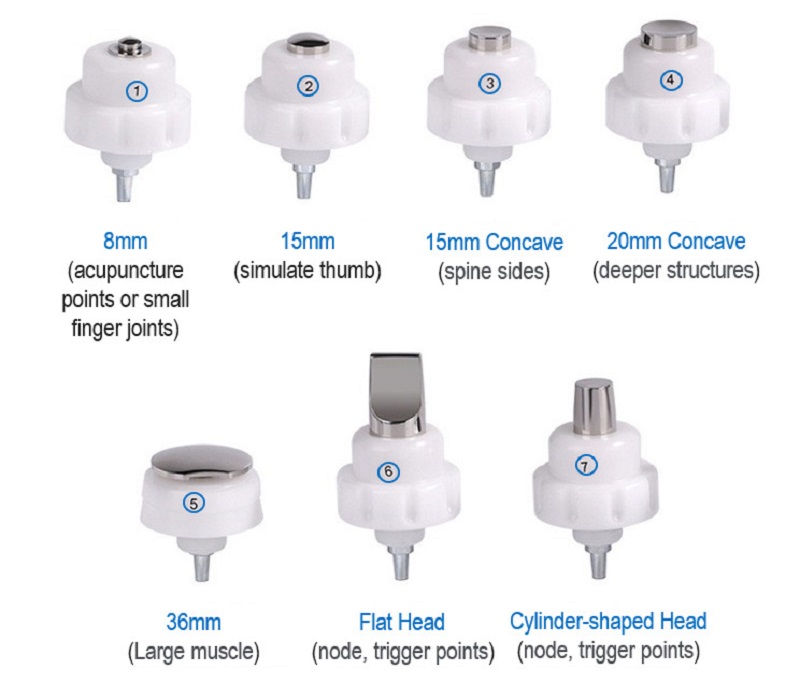 Easy Operation
1. Connect the handpiece and foot pedal with host first, then connect with power cord and turn on the power switch and button, you will see the function interface.
2. You can select and click the corresponding mode from 10 functional modes.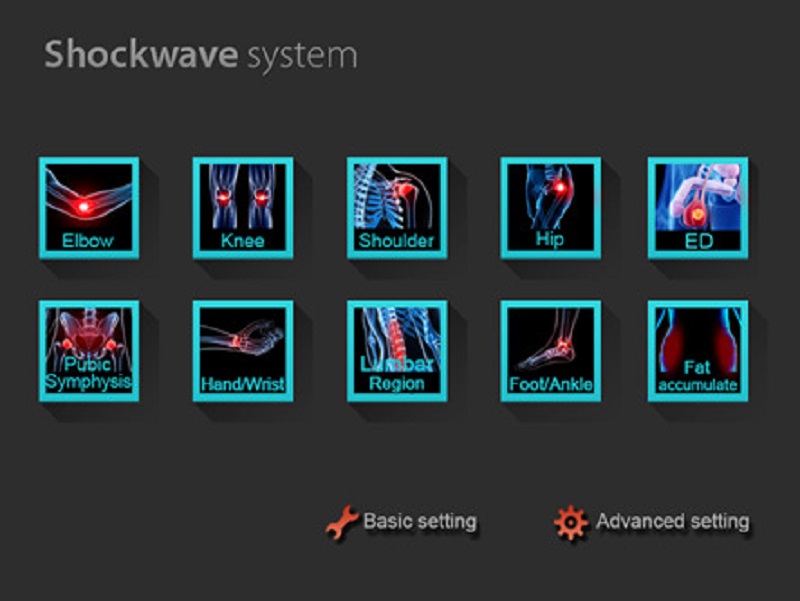 3. For example, you choose ED mode. You will see the recommended transmitter heads, hit times, etc., choose one of the shown transmitter heads and assemble it on your handpiece. If you choose 4# or 5#, it suggested you cover the rubber head for comfortable use.
Set the frequency in a middle level is better for first use, lower frequency will make deeper propagation and transfer higher energy into the body; And setting the energy at a lower level is better for first use.
A higher frequency, means a lower engergy out.
When the frequency is 1Hz ~ 12 Hz, the maximum energy level you can adjust is 100mj.
When the frequency is 13Hz ~ 14 Hz, the maximum energy level you can adjust is 80mj.
When the frequency is 15Hz ~ 16 Hz, the maximum energy level you can adjust is 50mj.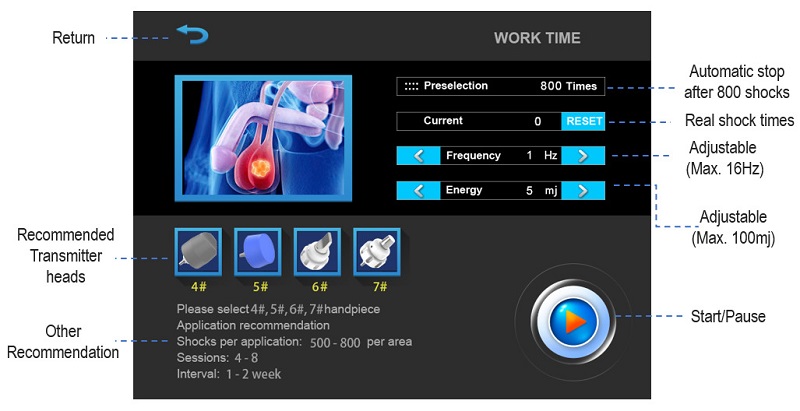 4. After setting the operation parameters, click the start button in the lower right corner of your touch screen, and then put your foot on the foot pedal and give a little pressure, it will start working. If your foot leaves the pedal, it will stop working.
Product Features
Exquisite appearance and workmanship.
Full metal frame with auto paint baking technology.
16500rpm high-speed turbine cooling fan of a well-known global brand, ensuring stable heat dissipation ability and adequate shockwave pressure.
The Taiwan MeanWell power system provides reliable power.
Over 80% of PCBA components are from famous brand manufacturers worldwide for quality guarantee.
7 different transmitter heads for comfort and effective use.
Operation parameters can be adjusted at your option.
Flight case packing for better protection.
Easy to maintain the machine with an electromagnetic-driven system, except for routine wiping after use, only need to open the handpiece and give a clean maintenance every other month.
Easy to use with recommended transmitters, working frequency, sessions and intervals of 10 therapy modes.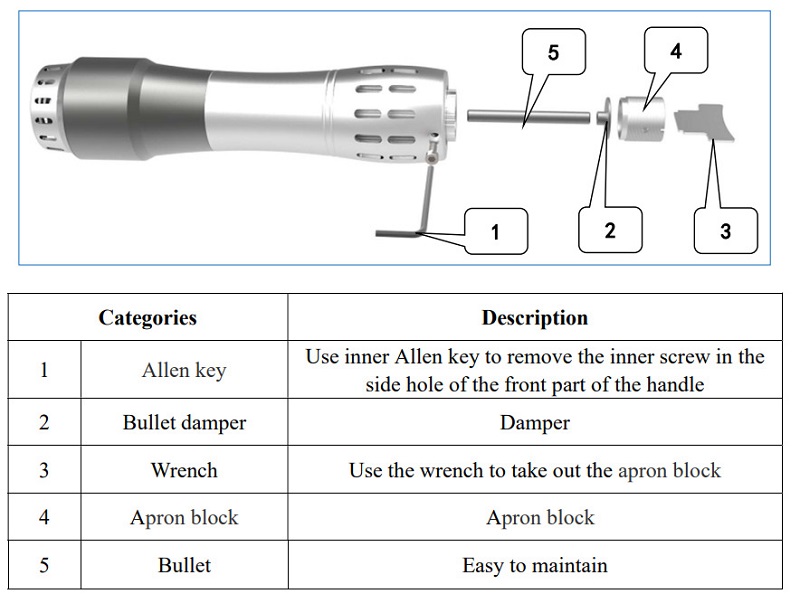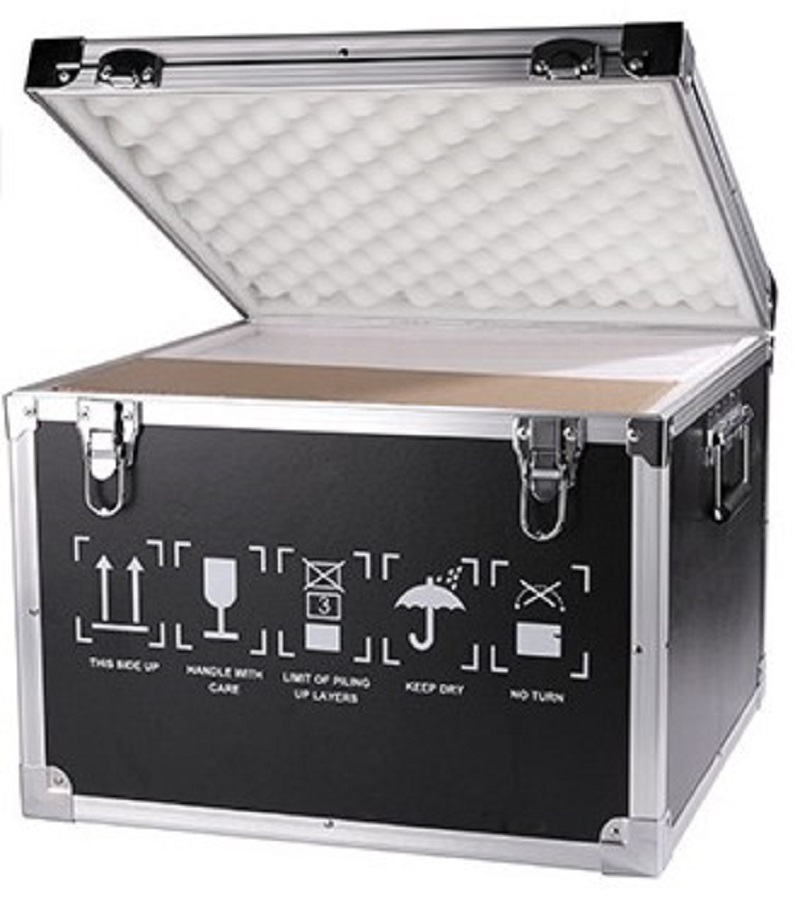 Package Includes
1 x Flight case packing
1 x Host
1 x Handpiece with cable
1 x Power cord
7 x Transmitter heads
Others: Other accessories, like soft tip heads, the tools for maintenance
Contraindications
Do not use shockwave therapy machine if there are the following conditions:
1. Tumors, lung tissue, major blood vessels or nerves, or infection in the treatment area
2. Epiphyseal plate, Brain or Spine in the treatment area
3. Hypertension or heart disease
4. Coagulopathy including thrombosis
5. Applying immunosuppressive
6. Joint fluid seepage or joint replacements
7. Cognitive or mental disorder, or poor sensory function
8. Pacemakers or other implanted devices
9. Pregnancy
10. Open wounds