---
Shockwave therapy was originally developed to help urologists treat kidney stones non-invasively, in the late 1990s. Now it's successfully used to help treat many musculoskeletal conditions.
The Radial Extracorporeal Shockwave Therapy (rESWT) device has several transmitters for more precise and comfortable treatment for different parts of the body. The applicator with a special ergonomic grip helps eliminate backward shocks and ensure effortless handling and treatment.
Why Use Shockwave Therapy Device?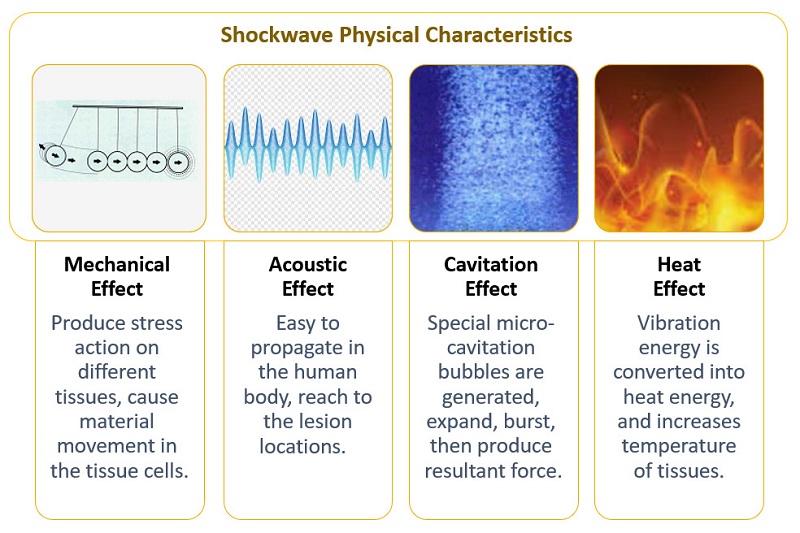 Lead to↓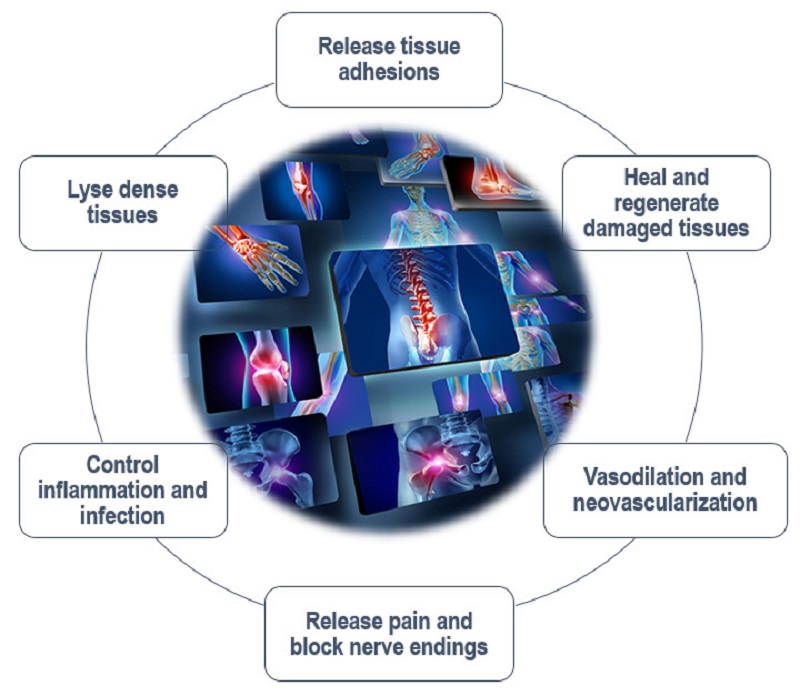 What Kinds of Problems Can be Used to Therapy?
Achilles Tendinopathy

Plantar Fasciitis

Patellar Tendinitis (runner's knee)

Calcific Tendinitis

Quadriceps tendinitis

Biceps/triceps tendinitis

Trochanteric tendinopathy

Lateral/Ulnar Epicondylitis (tennis elbow/golfer's elbow)

Carpal tunnel syndrome

Iliotibial band syndrome, or ITBS (pain that stretches from the outside of the hip down the outer thigh to the outside of the knee caused by running and cycling)

Medial tibial stress syndrome (shin splints)

Muscle spasm

Trigger points: calf muscle shortening, thigh adductors, lumbago, dorsalgia, cervical syndrome and more

Erectile Dysfunction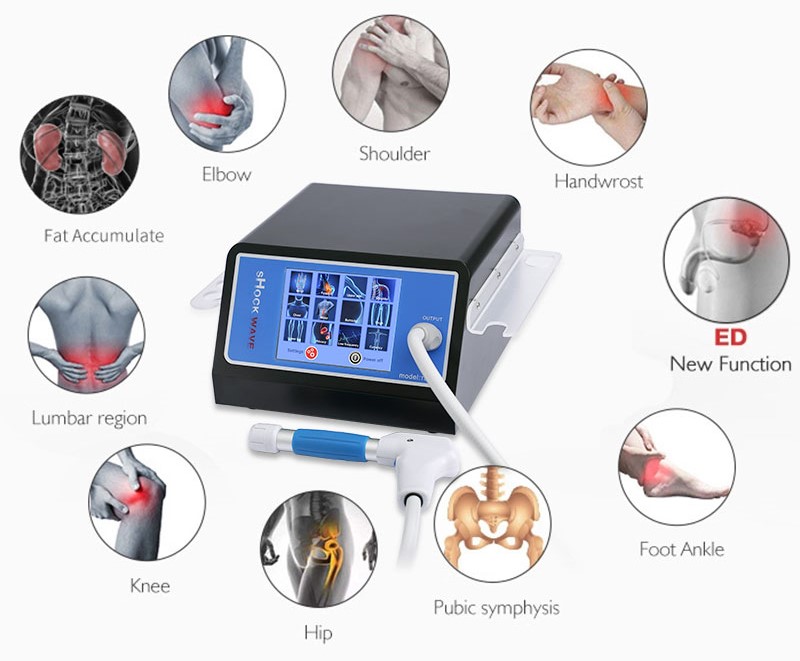 Product Features and Advantages
Full metal frame

Intuitive operation with 8.0″ colour touch screen

High pressure up to 10 bars

High frequency up to 22 Hz

Quick and easy replacement of different transmitters

Easy to use with presented 12 kinds of functional modes

Parameters are adjustable

2.5 million shock lifespan of one projectile

Ergonomic applicator for comfortable use

Flexibility of the handpiece cable facilitates treatments without fatigue

Very simple maintenance method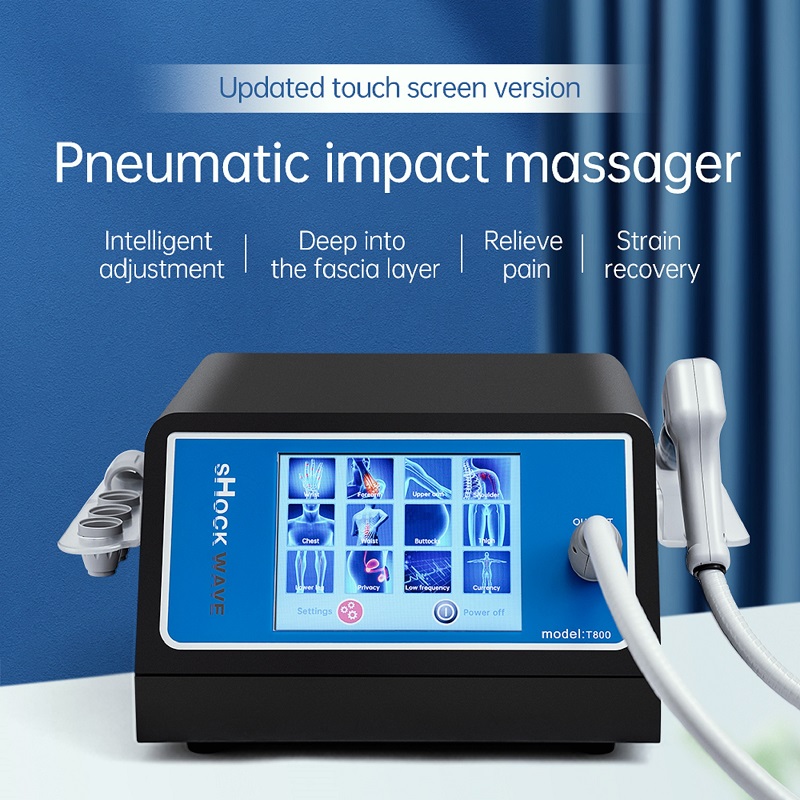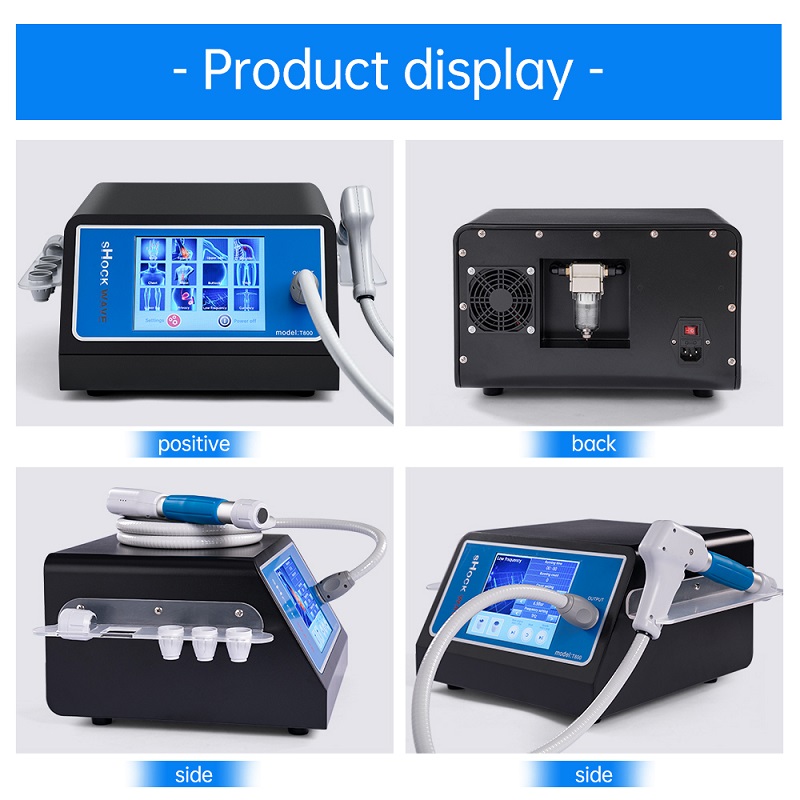 Recognition of Host, Handpiece and Accessories
1. Touch Screen
2. Power Outlet
3. Brackets
4. Transmitter Heads
5. Handpiece
6. Power Port
7. Power Switch
8. Air Filter (Should press upward to drain the water in time)
9. Cooling Fan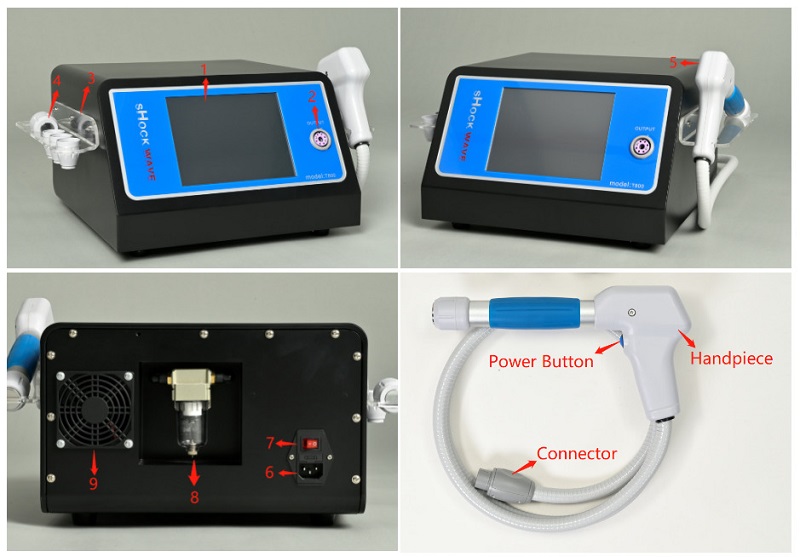 Easy Operation
Firstly, insert the connector of handpiece into your host power outlet, located in the front side of the host, making sure the bump of connector is matched with the notch of the power outlet first.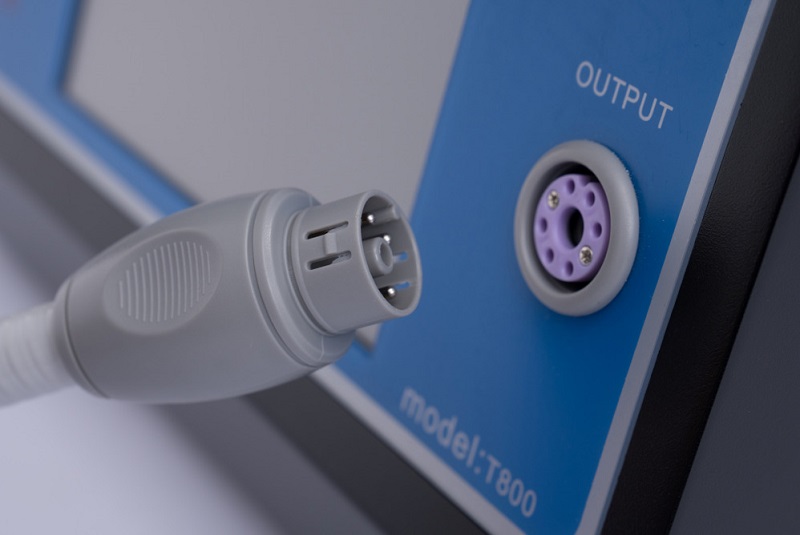 Secondly, attach the power cord for your host to the power port on the back side of the host, then insert the plug of the other end into a power socket. Then turn on the power switch on the back side of the host.
After password inputting and language selecting, you can select the corresponding mode from 12 functional modes in the system.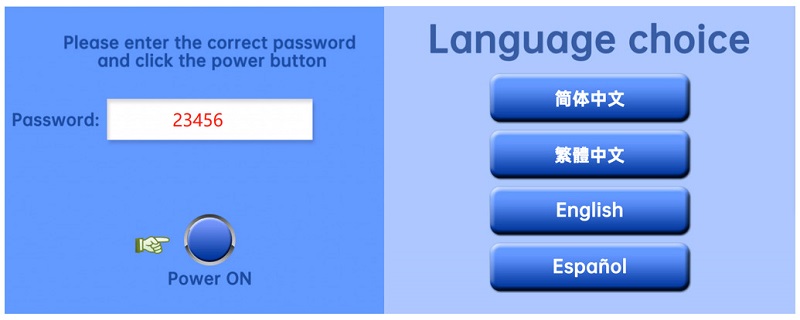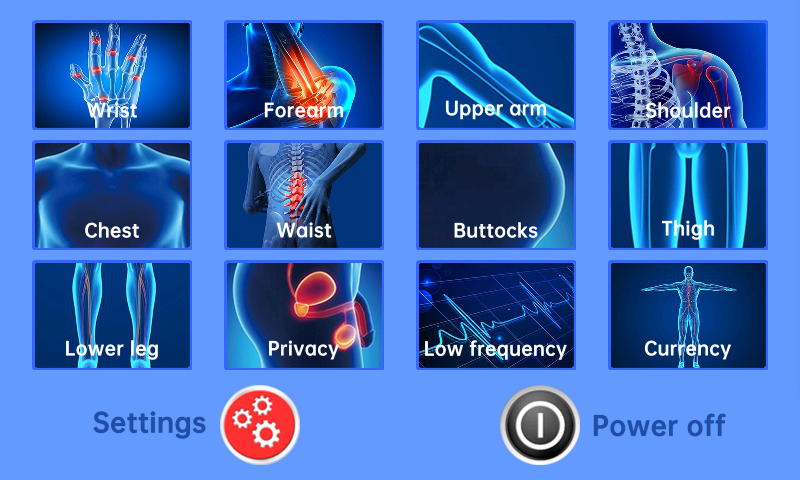 This is an example if you select "Wasit", you will see the picture of intelligent preset value for strike count, strength and frequency, it's available to adjust the initial parameters to follow your real needs, starting from lower engergy to higher energy for assuring safeness and comfort.
You can choose one of the suggested transmitter head 3# or 4# on the screen, also can choose another suitable one. Touch the "Main engine start/stop" first, press power button on the handpiece or touch "Handle start/stop" on the screen to enter into the working state.

Product Parameters
Host Colour

Blue + Black

Host Material

Metal

Rated Voltage

AC110V / AV220V




(auto switch)

Rated Frequency

50HZ / 60HZ

Rated Power

350W MAX

Rated Current

5A MAX

Working Intensity

0.5 – 10.0Bar

Set Frequency

1 – 22HZ

Strike Counts

500 – 3000

Transmitter Heads

5

Device Dimension

344 * 355 * 220MM

Packing Dimension

420 * 410 * 343MM

Net Weight

17.00KG

Gross Weight

18.20KG
Packing List
1 x Host
1 x Handpiece with cable
1 x Power cord
3 x Projectiles (one in handpiece)
5 x Transmitter heads
2 x Brackets (for handpiece and transmitter heads)
Others: The tools for replacement of projectile and maintenance
Contraindications
Do not use Pressure Softwave Device if there are the following conditions:
1. Tumors, lung tissue, major blood vessels or nerves, or infection in the treatment area
2. Epiphyseal plate, Brain or Spine in the treatment area
3. Hypertension or heart disease
4. Coagulopathy including thrombosis
5. Applying immunosuppressive
6. Joint fluid seepage or joint replacements
7. Cognitive or mental disorder, or poor sensory function
8. Pacemakers or other implanted devices