The portable oxygen generator are an excellent way to administer on-the-go oxygen therapy. Allowing people who needs oxygen inhalation to shop, travel, spend time with family and friends outside of their home.
Work in car with car adapter.
Run by rechargeable battery for outdoor use. Easily carry by a trolley bag. Extra battery can be chosen for a longer use time.
Continuously use at home with AC power cord.
You can select "Machine outfit" for all of them.
Or just select "Machine only" if you are planning to use indoors.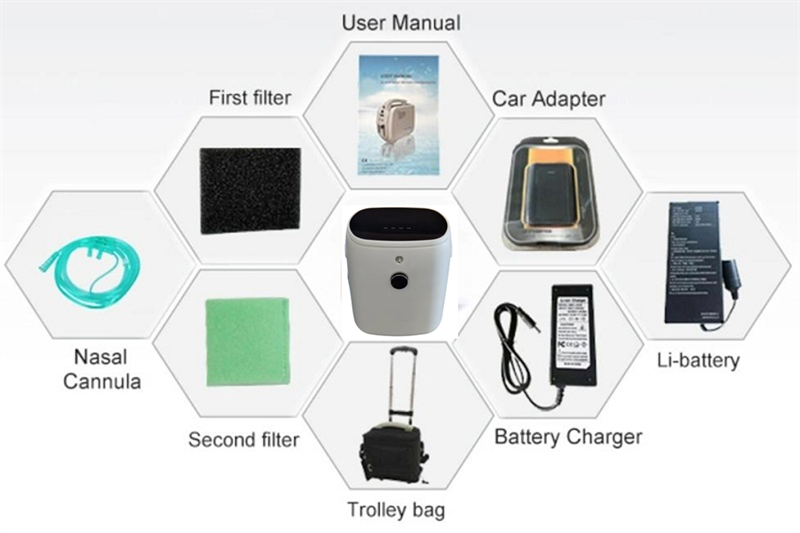 PSA Principle
The product adopts a pressure swing adsorption principle, which can separate oxygen, nitrogen and other gas from the air, at constant temperature. As soon as the power is connected, oxygen that meets the criteria for medical use can be continuously separated from the air. Oxygen is generated in a purely physical way. The generator can safely and reliably supply a steady outflow of oxygen to the patient at low cost and with an adjustable flow rate. The key components of the generator are designed to be anti-tired and anti-aging, and the entire generator has a planned lifetime of up to 20,000 hours. There is no influence on indoor oxygen percentage during the operation of the generator.
Specifications
Input voltage: AC 110-230V (±10%)
Input frequency: 50Hz / 60Hz
Flow rate: 1-7L/Min
Oxygen concentration: 93%±3% at 1L/Min±10%
Outlet pressure: 6-10Psi (0.04-0.07Mpa)
Alarm: Power failure
Large LCD display: Accumulating timing; present timing; oxygen flow; oxygen concentration
Power consumption: <=85W
Li battery: Capacity*154Wh; duration*1-2 Hours
Sound level: ≤40db
Net weight: 6kgs
Dimension(mm): 220(Deep) * 275(width) * 314(height)
Using Condition
Ambient temperature: 10℃-40℃
Relative humidity: 30%-85%
Air pressure: 700 hPa – 1060 hPa
No corrosive gas and strong magnetic field around.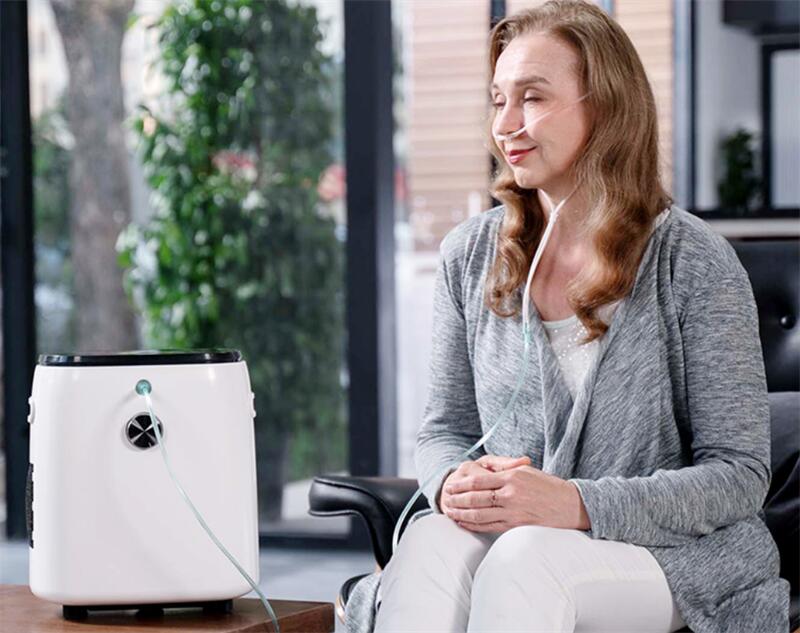 Machine Features
1. Free oxygen inhalation time setting: You can adjust oxygen inhalation time according to practical need.
2. Flexible choice of oxygen concentration: Oxygen concentration can be adjusted in the range of 38%-93%.
3. Free choice of oxygen flow: You can easily switch the flow rate from 1L/min to 7L/min through the knob.
4. Transportable and available for being mounted on vehicle.
5. Excellent quality: The machine we offer are safer and more reliable in quality.
6. Ultra-low noise: Thanks to the low-noise design, our product can run stably and only makes noises lower than 40dB while working.
Application
1.People with cervical spondylosis: relieve the hypoxia symptom caused by cervial spondylosis.
2.People with cardiovascular disease: coronary heart disease, hypertension, heart failure, heart disease, cerebral thrombosis, cerebral hypoxia, migraine, dizziness, etc.
3.People with altitude sickness: high altitude emphysema, cerebral edema, and heart disease are caused by altitude hypoxia.
4.Business people: relieve brain fatigue, enhance sleep, enhance immunity, and avoid sub-health.
5.The elderly: arteriosclerosis, senile dementia, insomnia, dizziness, senile syndrome, etc.
6.Pregnant women: proper oxygen inhalation by the pregnant during pregnancy can enable mothers and babies to obtain sufficient oxygen, enable better fetal development, prevent premature delivery, and avoid intrauterine fetaldeath due to hypoxia.
Warranty
Scale for the whole machine repair: 15 months upon arrival of the goods.
Note: Please place the machine in a good ventilation area, please make sure that the radiation port underneath the machine will not be covered.