Full-Spectrum IR and Red Light Therapy
The light therapy lamp combines full spectrum of the infrared wavelengths (IR-A, IR-B, and IR-C) and red light to optimally provide the full health benefits of each wave pattern.
Infrared radiation (IR), also known as thermal radiation, is electromagnetic radiation (EMR) spectrum with longer wavelengths. The International Commission on Illumination (CIE) recommended the division of infrared radiation into the following three bands:
ABBREVIATION
WAVELENGTH
FREQUENCY
IR-A
700 nm – 1,400 nm
(0.7 μm – 1.4 μm)
215 THz – 430 THz
IR-B
1,400 nm – 3,000 nm
(1.4 μm – 3 μm)
100 THz – 215 THz
IR-C
3,000 nm – 1 mm
(3 μm – 1,000 μm)
300 GHz – 100 THz
IR-C is absorbed by superficial tissues and stimulates heats the skin and promotes blood circulation.
IR-B penetrates the dermis which improves skin condition and increases collagen production.
IR-A penetrates the deepest skin layers, which reduces swelling, increases skin tone and fights against natural aging.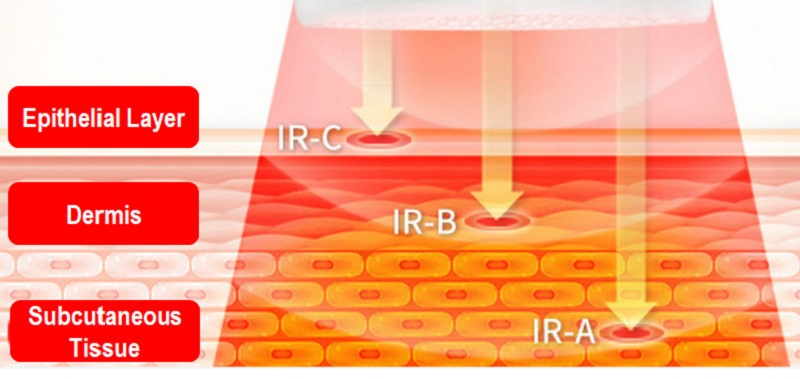 Exquisite Design
An ideal and practical gift for you and your family
Lightweight for convenient carrying and simple operation
Medical grade 150W light bulb
Heat resistant and anti-scald mask
Plastic alloy material
Adjustabele knob for time setting
Adjustable head for convenient use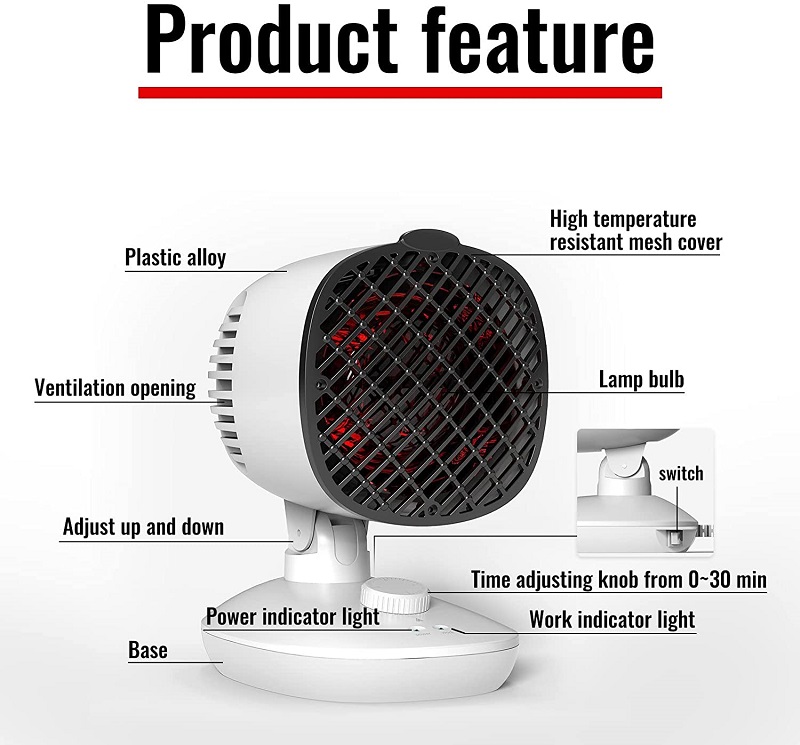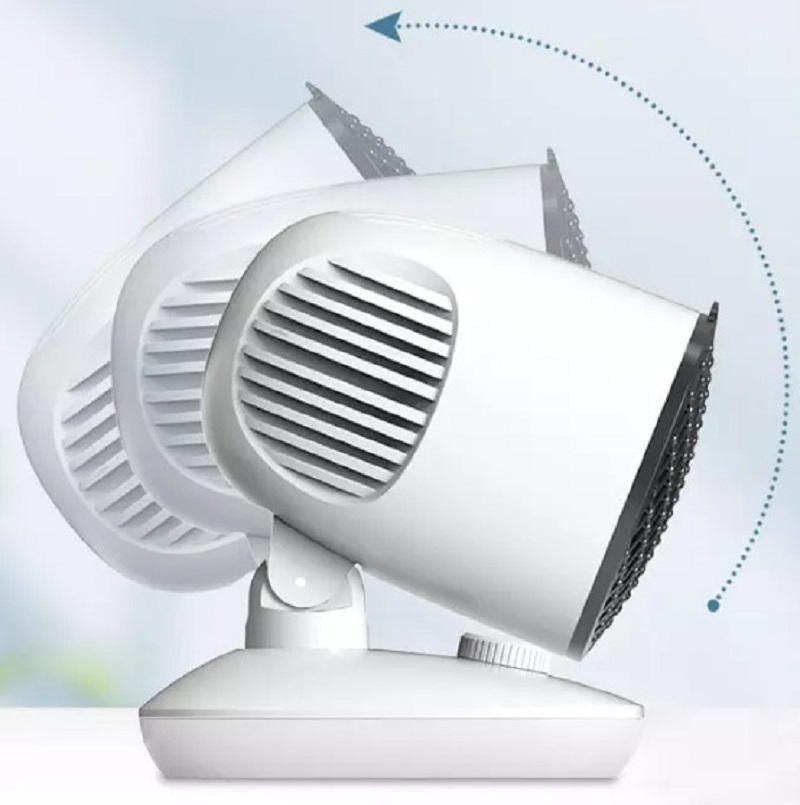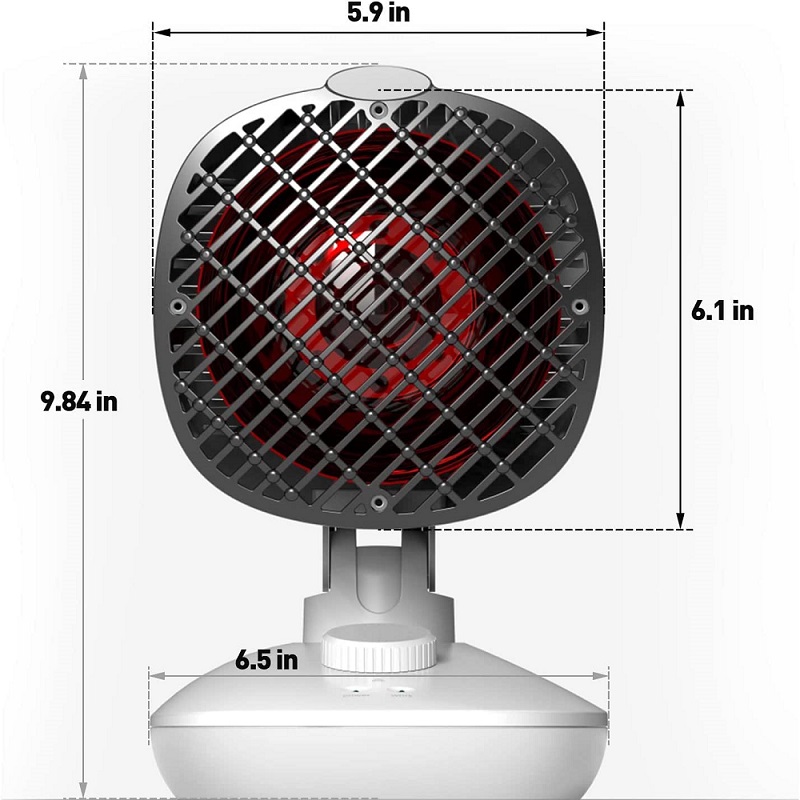 Multiple Application
The infrared light therapy lamp has numerous benefits for the body, from improving cardiovascular health to reducing pain. It can quickly warm your target area, such as the abdomen and lumbar, to relieve discomfort. It can also effectively assist the target area to promote metabolism, accelerate the healing of damaged cells, alleviate joint and muscle pain, and relax your body.
You can use it to treat your face (need to protect your eyes away from the light), abdomen, and joint or muscle pains like in the areas of lumbar, shoulder, neck, back, knee, foot.
The recommended use time is 20-30 minutes each time. It'll be hot immediately for a bootup, no need to wait.
Display
Face (Need to protect your eyes)
It reaches the damaged tissue and promotes cells to heal. Furthermore, it activates the cells and stimulates metabolism, tightens, brightens and smooths the skin.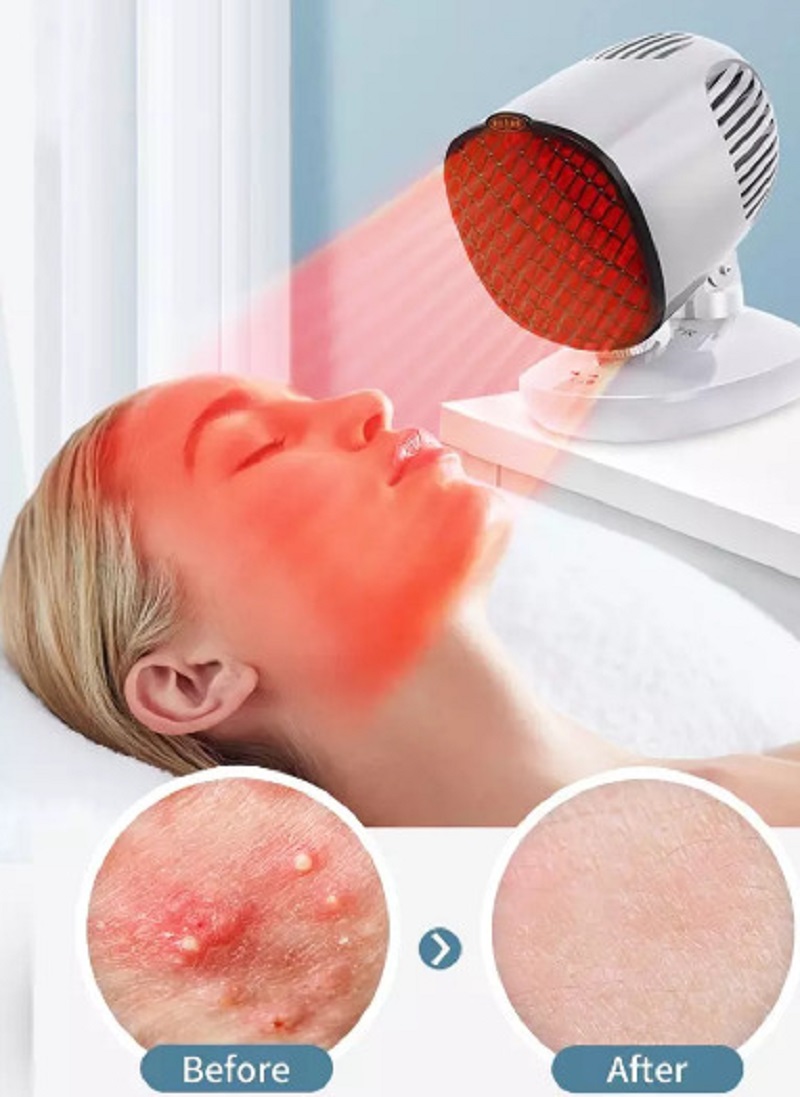 Abdomen
Warm the area and give women good care during the monthly special period. Accelarate fat consumption and metabolism for a healthy body.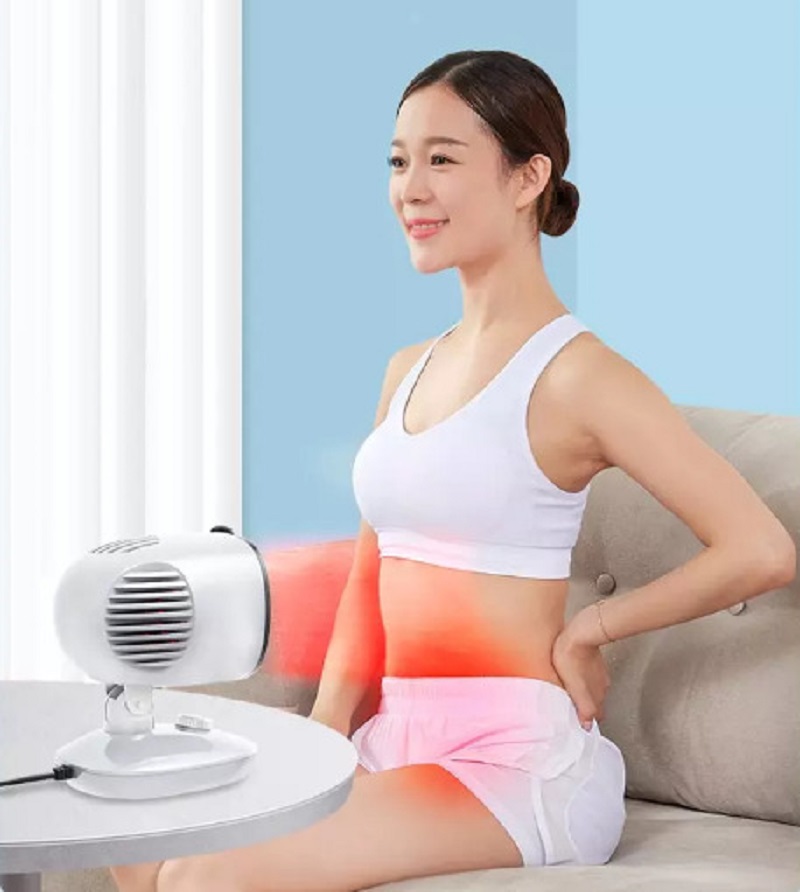 Lumbar
If you have a sedentary life or suffer from lumbar pain, the lamp is definitely a good choice for good care and physiotherapy methods. You can use the lamp to irradiate your lumbar for 30 minutes a day to restore the vitality of the lumbar.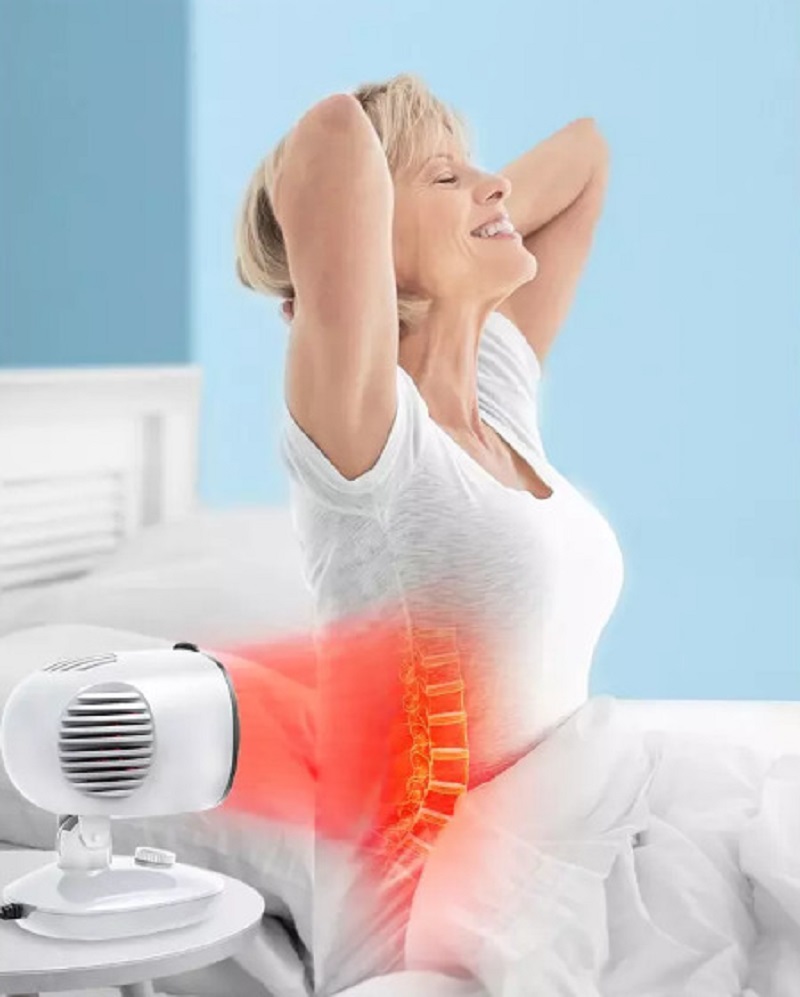 Cervical Vertebra and Shoulder
It is a common phenomenon that many people suffer from neck and shoulder disorders due to long hours of work, study or playing mobile phones. The light therapy lamp will promote blood circulation, relieve spasms and alleviate pain.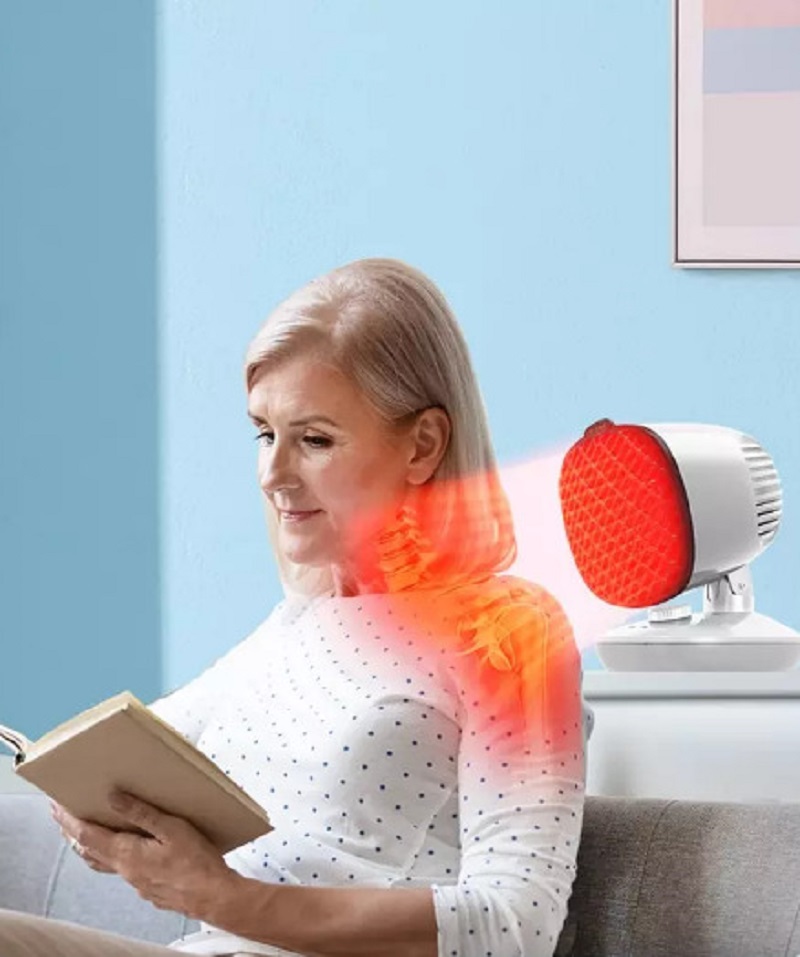 Package Includes
1x Lamp with power cord
1x User Manual
Product Parameters
Voltage: 110v, 220v
Power: 150w
Instrument Classification: Class I
Product Size: As photo shown in product details
Package Size: 283x251x191mm
Package Weight: 2KG
Warranty: 1year
Application: Clinic, health center, home